Jesmond Park is the original course in Newcastle. It was installed in 2011 and has 9-baskets and 16 signposted tees in Jesmond Park, Newcastle NSW.
In January 2013, a course map and tee signs for the Red and Blue layout were installed. With the construction of the inner city bypass, the baskets for hole 7 and 8 were moved to create a new hole '3a' on the walk between hole 3 and 4 and a practice putting basket neat the Robinson Avenue carpark.
The best address to access the park is Jesmond Park Playground, 4 Robinson Avenue, Jesmond NSW 2299, you can also get an electronic scorecard at: https://udisc.com/courses/jesmond-park-8FDc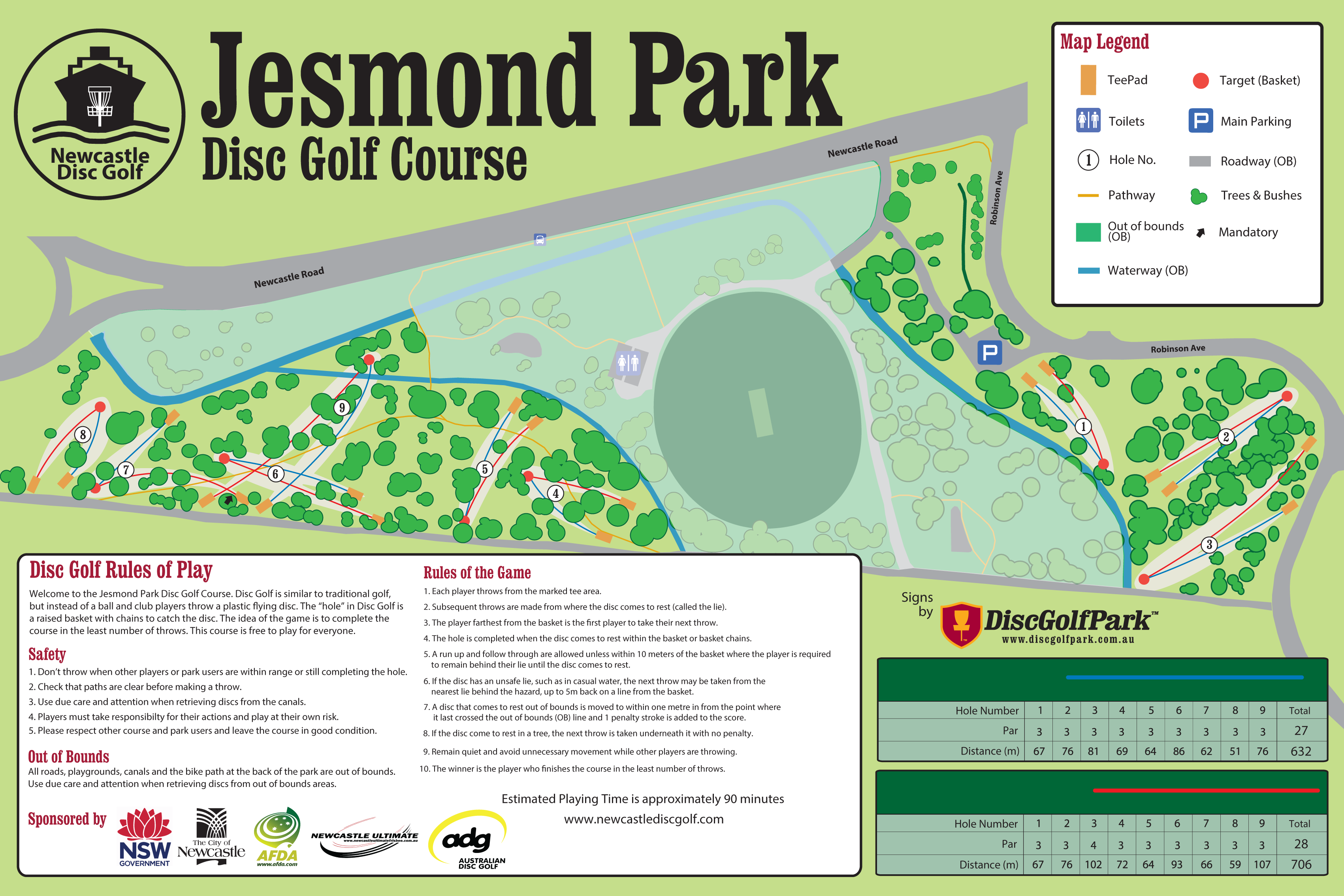 Courses in the Hunter region
out of 50 rating on UDisc
>3000 rounds played this year
Rathmines Park, Styles Point Reserve is the location for Lake Macquarie's first Disc Golf course. The best address to use to gain access to the park is 2 Overhill Road Rathmines, which puts you right outside the entrance to Styles Point Reserve.
The course was installed in August 2014 with Innova Discatchers as baskets thanks to the hard work of Neil Roberts and generous donations from the disc golf community . If you walk around Styles Point reserve you will see their distinctive yellow bands throughout the park. Shortly after the course was installed it hosted the Australian National Disc Golf Championships in November 2014, with an additional 9 holes being played on the East side of the park to temporary baskets.

The public course layout is a short yet interesting course for just about everybody. Rathmines Park is a Par 32 course across the 10 basket layout with mostly par 3 and two par 4 holes. The tees are marked with tee signs and pavers in the ground. Some may be missing, but most should be intact. There are also arrows at the pins, pointing to the next tee and a course map near hole 1 and the parking area.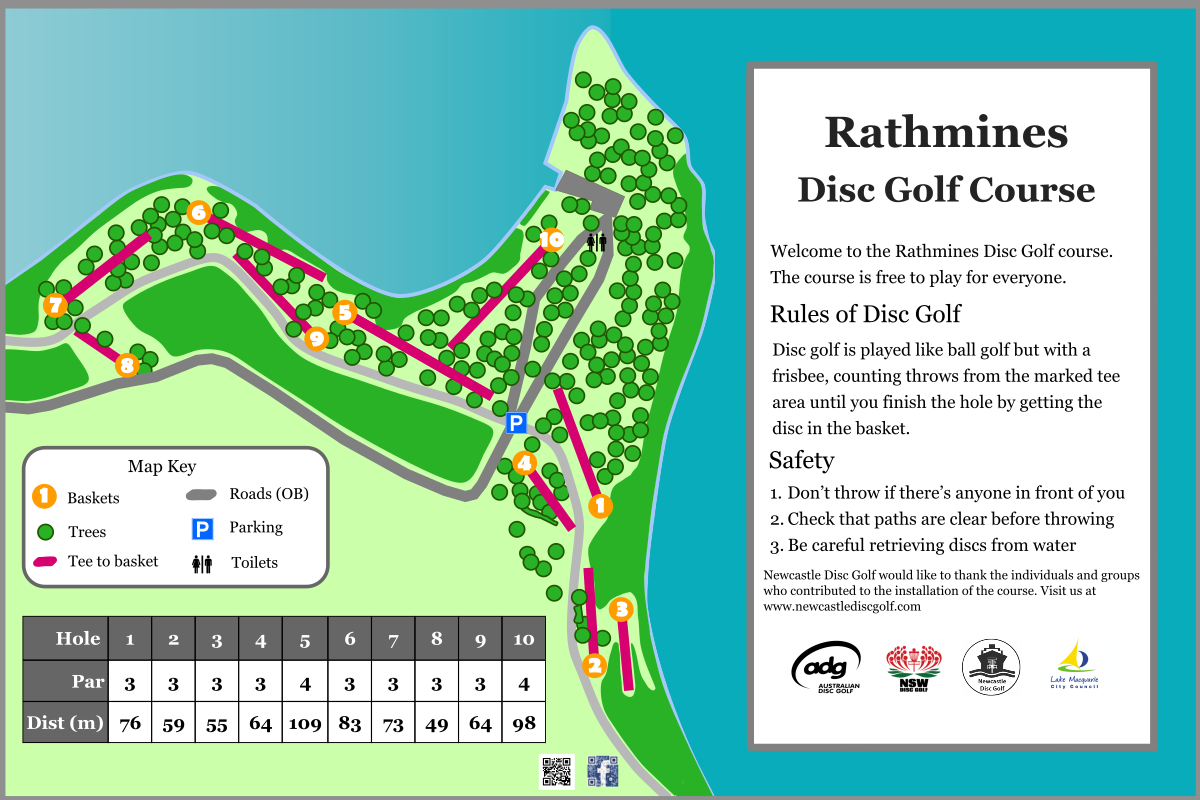 In 2015 Wyong council installed a 9 hole Disc Golf course at Koala Park near San Remo. The best address to access the course is Koala Park, Colongra NSW 2262

Stockade Hill Heritage Park, East Maitland
Stockade Hill Heritage Park is a new course which was originally set up in East Maitland for a 2 month period in January and February 2022, but due to popularity has been extended. The course was proudly funded by the NSW Government in association with Maitland City Council.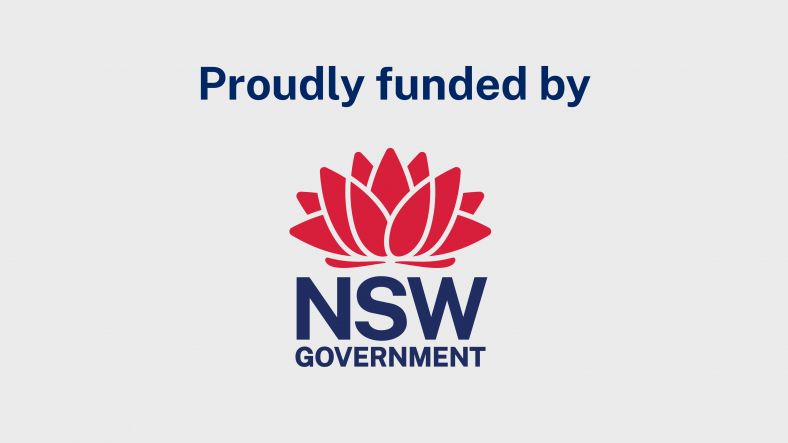 Instructions for UDisc
For new players:
Download and Install the "UDisc Disc Golf app" from your app store.
Create a UDisc user account or Skip and Setup Later.
Click the link above and the "Stockade Hill Heritage Park" course should show up.
Click "Create Scorecard"
For players that already have the UDisc app:
Click the link above and

the "Stockade Hill Heritage Park" course should show up.
Click "Create Scorecard"